Adverse Weather Policy
The general rule about coming to the zendo is, if driving may be risky, don't do it. For example, when it is snowing or sleeting, or if snow or sleet are predicted to occur before or during zazen, you can assume that the zendo will be closed. This is particularly true for 6:00 A.M. zazen. The highway where the zendo is located is often not as well traveled or as well treated for snow as other highways in the area, and the temperature in the county is often a couple of degrees colder than in more populated areas.
Buddha's Enlightenment Ceremony
Sunday, December 16th
On Sunday morning, December 16, we will commemorate Buddha's Enlightenment at 10:30 AM with a short talk directed to children followed by a candle lighting and special service in the zendo. At the end of service, the children will be given a gift of incense and a candle. The morning will end with pot-luck refreshments, with beverages provided. Two periods of zazen, beginning at 9 AM will be held as usual.
New Year's Eve
Monday, December 31st at 8 PM
On Monday night, December 31, we will welcome the New Year with two periods of zazen at 8 and 8:50 PM followed by the Bodhisattva Ceremony at 9:20 PM, and a Fire Ceremony at 9:50 PM followed by refreshments. For the Fire Ceremony, we write down the habits and tendencies, difficult states of mind, tangled aspects of relationships, and so on, that we would like to release. We will have an outdoor fire to burn our papers along with the name cards from Memorial Services held during the past year and incense stubs that have accumulated throughout year. Everyone is welcome for the whole program or to any part of it. The program will end with pot-luck refreshments.
Children's Program
The Zen Center's Children's Program offers children four years and older a place in the Zen Center sangha through a variety of activities, including meditation, story, craft, song, and movement, as well as participation in Zen Center events and celebrations throughout the year. In each meeting, the children have the space and time to practice living mindfully and to learn about Buddhist teachings and contexts while giving their parents an opportunity to meditate in the concurrent adult program.
The Children's Program meets twice a month, on Sunday mornings, from 8:50 until 11 AM. The program will be held on November 4 and 18, December 9 and 16, January 6 and 20 and February 3 and 24. For more information, please contact Maura High, the program coordinator, at maurahigh@gmail.com.
Eco-Dharma Discussion Group
Mountains and waters right now are the actualization of the ancient Buddha way.
— Master Dogen
In this group we will informally explore together Buddhist teachings on the natural world, caring for the natural world as an expression of the Bodhisattva Vow, and our own responses to current environmental issues. The intention of this group is to support and inspire one another in our efforts to make appropriate Buddhist responses to environmental concerns at a personal, local and global level. If you are interested please contact Zenki Kathleen Batson at lulu@rumblebuss.com.
Aging Gracefully, Befriending Death
This is an informal discussion group that gives the opportunity to share readings, information, and explore conversations among ourselves on these topics. Please contact Kris Garvin at krisgarvin@gmail.com, Senmyo Jeff Sherman at jeffsherman3333@gmail.com or Carol Klein at wmichael@nc.rr.com, if you have questions, would like more information. Everyone is welcome, regardless of age.
Private Interview
Individual meetings are available to discuss your meditation practice including your posture, practice in daily life, and questions you may have about Buddhist teaching. Interviews are usually given during zazen and sometimes by special appointment.
Dokusan is a formal meeting with the Abbess to talk about your practice. You may schedule Dokusan by speaking to Josho Sensei or contacting her at info@chzc.org. When it's time for you to have Dokusan, someone may come to the zendo and get you, or the bell in the Dokusan Room will signal when it is time for you to come back. When it is your turn, go to the Dokusan Room, enter and close the door. Do one floor bow toward the altar ending with a standing bow, then sidestep and bow to and away from the cushion. Sit down and turn clockwise to face the teacher, settle and begin talking. When Dokusan is over, turn clockwise, fluff your cushion, and do a standing bow. Leave the door slightly open as you leave. During all-day sittings and sesshins the private interview will be treated as Dokusan.
Practice Discussion is a discussion with a priest about your practice. Jakuko Mo Ferrell and Choro Carla Antonaccio are available to meet with people for Practice Discussion. The form is to do a standing bow in front of the altar and to bow to and away from your cushion before sitting down, turn clockwise and begin. You may contact them at the zendo or by email. Jakuko can be reached at mositwear@gmail.com and Choro can be reached at subtlegate@gmail.com.
Sangha Network
The CHZC has a Sangha Network of volunteers to offer short-term assistance to those in the sangha who need help with simple tasks such as shopping, arranging for meals, or transportation, due to transitions in one's life including illness, disability, or death of a loved one. If you would like to volunteer or if you need assistance, please contact Kris Garvin at krisgarvin@gmail.com or Senmyo Jeff Sherman at jeffsherman3333@gmail.com.
Prison Outreach
Members of the Chapel Hill Zen Center volunteer in both state prisons in North Carolina and the federal prison at Butner. We can always use more volunteers, and having volunteers present is usually a requirement in order for inmates to meet for religious services or to sit zazen. We are looking for people who have been sitting zazen at the Zen Center for a year or more. Orientation is required by each institution. If you would like more information, please contact Josho at (919) 967-0861 or info@chzc.org.
Prison Book Donation Program
The Prison Book Donation Program is grateful for the generous support of the Sangha. Donations of Buddhist books, particularly on Zen, are appreciated, and only paperbacks are accepted by the prison. Please leave prison book donations at the Zendo.
Richmond Zen Group
For information, contact Kevin at (804) 366-5546 or visit www.richmondzen.org.
Wilmington Zen Group
For information contact Elizabeth at (910) 762-7465 or elizdarrow@gmail.com.
Gate City Zen Group in Greensboro
The Gate City Zen Group meets for zazen in Greensboro. For more information, contact Denise at dlgabri2@uncg.edu or (336) 324-9970.
The 2018 Board Members
Chapel Hill Zen Center Board Members for 2018 are President, Maura High; Vice President, Ken Wilson; Secretary, John Paredes; Treasurer, Mike McKillip; Members-at-Large, Andrea Ashdown and Colin Maxwell.
Altar Maintenance and Flower Arrangers
If you are interested in helping care for the altars of our temple, this would be a good time to begin, or return to, the practice of chidening and flower arranging. Traditionally, chidens are responsible for maintaining the altars of a temple which means cleaning the altars themselves, sifting and cleaning the incense burners, trimming candles, and replenishing needed items.
We also need volunteers to bring flowers and create flower arrangements for the altars.
Chidening and creating flower arrangements are wonderful ways of supporting the ongoing practice of our temple. A new schedule is being set up, and if you are interested in serving as a chiden about once a month, please contact John at john@jollyoso.com. If you are interested in serving as a flower arranger about once a month, please contact Andrea at andreajost@gmail.com.
Volunteers Needed
A group of Zen Center volunteers prepares and serves lunch at the Inter-faith Council Community Kitchen on the fourth Saturday of each month from 10 AM to 1 PM. More volunteers are needed, including a core group of committed people, so we can continue our presence. The IFC Community Kitchen is the only soup kitchen in Orange Country and is located on the corner of Rosemary and Columbia Streets in Chapel Hill. If you are interested in volunteering or would like more information, please contact Shawn at (919) 619-2243 or chzencooks@gmail.com.
CHZC Blog
The Chapel Hill Zen Center now has a blog with photographs from recent ceremonies and events. See: www.chapelhillzen.wordpress.com.
Priest Ordaination
We are happy to announce that on September 29, 2018, Neido Senmyo, Peaceful Way - Declaring Brightness, Jeffrey Sherman (below, center left) and Korin Eden, Revering Forests - Wisdom Way, Kevin Heffernan (center right) received the precepts as priests in the ceremony Shukke Tokudo.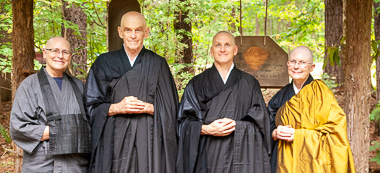 Zen Teachings in Challenging Times
A third volume of teachings by Soto Zen women teachers, including Josho Pat Phelan, has just been published. This new book, edited by Maura High, will be available for sale soon at the zendo. The previous two books, Receiving the Marrow and Seeds of Virtue, Seeds of Change, also have chapters by Josho Pat Phelan, and are available for sale in the zendo entryway.
People of Color Sitting Group
Wednesday evenings from 6 to 7:30 PM
The POC Sitting Group begins with zazen from 6 to 6:40 PM, with an option to stay for group discussion and community building. We are currently discussing the book Sanctuary by Zenju Earthlyn Manuel. Both those new to meditation, or experienced, are warmly welcome to join us or drop in as you like. For more information, contact Conal, Kriti or John at pocsittinggroup@gmail.com.
As usual, instruction in zazen and an orientation are offered to the public on Sunday morning at 9 AM, and on Tuesday night at 7 PM.
Recovery Meeting
Tuesday evenings, 7:30 to 8:30 PM
This is a recovery group with a Buddhist perspective on the 12-Step Program which meets at the Chapel Hill Zen Center. The meetings begin with twenty minutes of silent meditation. For more information, contact: (919) 265-7600 or ZenandRecovery@gmail.com.
Chinese Calligraphy & Brush Painting
Jinxiu Zhao will teach Chinese Calligraphy on Sunday afternoons from 2:15 to 3:45 PM, on December 9 and 16, January 6 and 27, and February 3 and 24, and Brush Painting from 2:15 to 4:15 PM

.

Fees are $30 per class, or $110 for 4 classes. Please contact Jinxiu at (919) 484-7524 or jxznc@aol.com to register or for more information. Jinxiu is also available to teach children's classes.
Temple Gift
A scroll of Shakyamuni Buddha with the two founders of Soto Zen in Japan below, Eihei Dogen Zenji and Keizan Jokin Zenji, now hangs in the zendo. The scroll was a gift from the Soto Zen Headquarters in Japan honoring the Chapel Hill Zen Center as a formally recognized Soto Zen Temple.
(Click image for larger view.)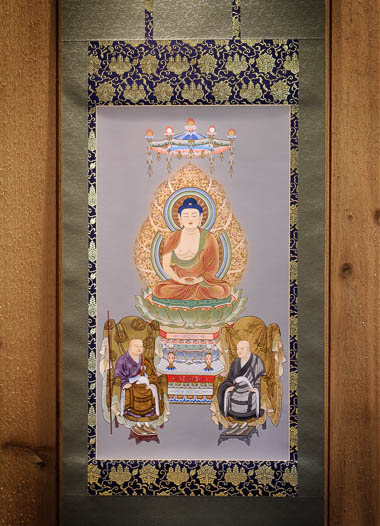 Looking Ahead
Spring Sesshin — March 1 to 6, 2019,
a Genso-e sesshin led by Shohaku Okumura.
Holiday Schedule
The zendo will be closed from Thursday, December 20 through Tuesday, January 1, except on Sunday mornings, December 23 and 30, the regular program will be held at 9 AM. Also, on Monday night, December 31, there will be a New Year's Program beginning at 8 PM. The on-going schedule will resume on Wednesday, January 2.
New Library Books
The Zen Center Library is available to Participating Members to check out books for three weeks at a time, with a two-week renewal.
New aquisitions for the Member's Library include:
Louis De LaVallee Poussin, Abhidharma Kosa Bhasyam in three volumes
Hakuin, The Sound of One Hand: Paintings and Calligraphy by Zen Master Hakuin
Robert Aitken, Zen Vows for Daily Life
The library catalogue is online at www.tinyurl.com/chzclibrary.
Shopping Online?
The Chapel Hill Zen Center is now registered with the online company iGive.com. iGive.com is set up so that when you register with them to make a purchase, a percentage (about 2%-15%) will be given to the non-profit of your choice. iGive.com has 238 merchants registered with them, including LandsEnd, L.L. Bean, and Amazon.com. After logging on to iGive.com, to make a purchase, choose the merchant, place the order, and then designate the Chapel Hill Zen Center to receive a portion of the proceeds from the sale. We are not advocating that you buy something you wouldn't ordinarily, or that you buy online, but, if you already shop online, consider going through iGive.com to make your purchase.
Amazon Smile
Amazon now donates 0.5% of the price of your eligible AmazonSmile purchases to the charitable organization of your choice. On your first visit to AmazonSmile, you need to select a charitable organization to receive donations from eligible purchases before you begin shopping. Your selection will be remembered, and then every eligible purchase you make on AmazonSmile will result in a donation. AmazonSmile is the same Amazon you know. The Chapel Hill Zen Center is now listed with smile.amazon.com
Download the November-December 2018 CHZC Newsletter in PDF format.
If you prefer receiving an email with a link to the PDF file of the CHZC Newsletter which is mailed every two months in printed form, please send your request to info@chzc.org. The PDF version is always linked to at the top of the Events page.
To get the latest version of Adobe's free PDF viewer, Acrobat Reader, click here.
Email Updates via the CHZC Listserv
You are invited to join an email listserv now available via Yahoo for announcements about upcoming activities at the CHZC. If you wish to become a member of this listserv, please type "Subscribe" in the subject line and send an email to CHZCannounce-subscribe@yahoogroups.com. You can also go to: www.groups.yahoo.com/group/CHZCannounce and click the "Join Now" box. You may be requested to supply some information or to create a Yahoo "identity." Please note the options for making your email address public or for receiving marketing or other messages not directly from the listserv. It is your choice whether or not to receive other messages. Joining this list will not increase the amount of spam you receive. If you have any questions, please contact the list moderator, Lance at lashdown@yahoo.com.